Clearance Services Throughout Kent:
Our Services include, full or part home clearances, office clearances, collection of individual items of household furniture (free of charge), storage units, sheds, garages and rubbish disposal within the Kent area, or if your clearance needs are outside the Kent area, we may be able to assist depending on distance, please contact us to discuss.

Our Full Home/Office Clearance Service within Kent:
We can undertake full home/office clearances removing all items within the property, including any rubbish, and can shred any personal paper work with names and addresses found within upon request. Our aim is to ensure items are recycled and re-used wherever possible.

Our Charging structure is detailed below

Home Clearances

Home clearance includes contents of kitchen cupboards, white goods, clearing living room cupboards, hall cupboards, empting and clearance of all bedroom wardrobes, chests, and cupboards, outhouses, sheds and garages, removal of all furniture, and home contents. The Rubbish disposal fee is only charged on volume of general rubbish, unusable, worn, broken, damaged items and furniture, beds and sofas/armchairs with stains or over 8 years old, wood/paint and general rubbish from sheds and garages, dirty fridges/freezers/cookers/washing machines, please ask our team for confirmation if unsure, the team reserve the right to refuse items not listed above or considered by them to be unusable.

Clearances due to Bereavement are made free of labour charge excluding any rubbish disposal, carpet uplift & cleaning.

Clearance Options:

VAT Is Not Applicable


One Bed Property Clearance (Labour): £120.00 Carpet Uplift £130.00 Cleaning £80.00

Two Bed Property Clearance (Labour): £160.00 Carpet Uplift £180.00 Cleaning £100.00

Three Bed Property Clearance (Labour): £180.00 Carpet Uplift £230.00 Cleaning £130.00

Four of More Bed Property Clearance (Labour): £200.00 Carpet Uplift £285.00 Cleaning £180.00


Individual Usable Good Condition Household Furniture Collections are free of charge.

See below for rubbish disposal charges

Storage units with usable items inside are cleared free of charge, rubbish can be left for the owner to clear or disposed of for a fee depending on amount to be removed.

Office/Commercial Clearances
Commercial/Business premises may be subject to prior viewing or photo's can be provided, and are subject to size of premises and customer requirements, and include part or full clearances, please drop us an email to discuss your needs with pictures if possible of the items to be removed. Charges are levied for the removal and disposal of office furniture, which is difficult to re-home due to demand and depreciation.

Rubbish Disposal Charges
Rubbish clearance is subject to a clear and disposal fee's including loading/unloading, based on weight and space used in our Ford Transit Jumbo vans, summary below:

Quarter Van £150.00 Equivalent to 4.6 cubic yards

Half Van £250.00 Equivalent to 9 cubic yards

Full Van £330.00 Equivalent to 18.7 cubic yards

which includes Broken or Damaged Furniture, Black Sacks of Rubbish, Rugs, Soiled Mattress and Items from Sheds and Garages with no reuse potential, and items considered to be rubbish/unusable by the clearance team.

Please note Gas Appliances need to be disconnected by a Registered Engineer prior to clearance

Free Usable Household Furniture Collection

Collection of any unwanted items of household furniture, in good condition, is made free of charge within the Kent area, which are not part of a home clearance. Please note, sofa's/armchairs/beds/mattresses, are subject to collection fee's due to the low re-sale value and difficulty in finding a new home. Single Sofa collection £50, Two-Three Piece Suite Collection £80, Bed/Mattress collection £40, please give us a call to discuss.

Examples of individual items we can accept:
All types of furniture, desks, office/computer chairs, cupboards, wardrobes, bed
frames, cabinets, tables, dressing tables, bedside cabinets, bureau's and clothes/footwear are just a few
examples



Examples of individual items we can't accept:

(unless related to full home/office clearances with the rubbish disposal fee) Mattresses and sofa's without fire labels, stained or with tears, broken or damaged furniture with no re-sale value.If you are unsure, please ring for advice


Post Full Home/Office Clearance Cleaning Service:

For properties requiring re-sale or letting, we can offer a property light cleaning service, including vacuuming carpets, cleaning floors, wiping skirting boards, cleaning kitchen/bathroom surfaces, subject to rates relating to property sizes detailed below. Please feel free to contact us to discuss your requirements.

One bed/Studio Property -
£80.00
Two bed Property-
£100.00
Three bed Property -
£130.00
Four or more bed Property -
£180.00

Commercial/business
premises are subject to prior viewing


Scrap Metal Removal:

Kent Re-Users is licenced to remove scrap metal, please contact us to discuss your requirement.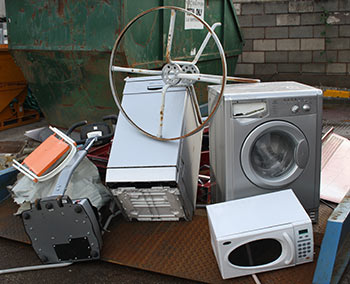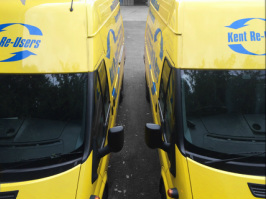 Two Men & A Van Service:

If you need help moving items of furniture or small items, or even need something collected, we have Ford Transit Jumbo vans and two man team to assist. Hire of a two man team plus van, £30.00 per hour plus mileage @ £1.00 per mile from ME10 1XP to first destination and then onto second destination as per customer requirements. Minimum charge is £90.00, which includes 1 hour and 20 miles.

---